June BUILD UPDATE: What's new at 'The Bike?
It has been nearly a month since our last update to you, dear members, and for this we apologize...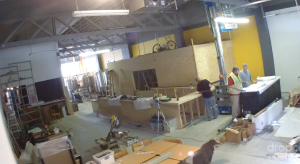 In our defense we have been a bit preoccupied with opening YOUR brewery as fast as we can.  However in some areas the fates have conspired against us, and in others they have shined upon us with their favor.  Here's a rough tally on some items:
Electrical upgrade: Our landlord has had difficulty getting this finished up for us, and it's hampered our ability to get quotes from electricians, and get the work done.  As it stands today, we have 3 phase,  a new panel, and it's hooked up, but we're waiting for City Light to "power it up" (and install a meter).
Securing an electrician:  We had several on the hook, but they all became busy when they realized that we didn't have all the power we needed (that pesky upgrade), nor the drawings in a form they were used to.  Member Mike Taylor stepped up and generated some quite professional Electrical plans to have electricians bid upon, and we selected Foy Electric who is currently whipping out our electrickery this week and should be finished next week.
Surveying the plumbing:  Even after rebuilding the stub outs for our toilets (which we had to do anyway, to move them to be ADA compliant) we still had "flushing issues".  Turns out our neighbor Munch Café does too, so we ponied up and got the sewers scoped – and we have some greasy arterial sclerosis issues that we need to take up with the landlord…  blech.
Finishing the plumbing:  We're on track to get the plumbing finished up next week as well, but we sure are a lot smarter about all the dependencies in getting this accomplished.  Everything from placing the bar to figuring out where to put our On-Demand hot water tank, to final placement of sinks in the brewhouse and bathrooms…  Don't ever believe someone if they dismiss this as easy with a "it's just plumbing" comment!
Widening the bathroom doors:  ADA again.  >sigh<  We realized we needed to get wider doors to be in compliance.  So, again our volunteers (led by one of our member's stepdad - THANK YOU STEVE!) came through and secured doors and frames, AND figured out how to wedge them into the walls. Awesome work, guys & gals!!!
Grinding the floors:  I may have mentioned to some of you, but the act of grinding the floors made me long for the good ol' days of painting the ceiling.  This is seriously tedious and dusty work, and I would only wish this upon the most evilest of Corporate Beer Drones…  Nonetheless, it is now largely done, and once things settle down a bit more, we can epoxy the remainder of the Brewhouse floors, and then topcoat/clearcoat the rest, to make it easier to clean up the inevitable beer fouls…
Building the Cold Room:  Yes we got a "kit" and it looked pretty straightforward – but add in a 75 year old building with her own special curves (read: wavy floors) and "Houston, we have some challenges…"  Coolers like to be square to make gaps sealable, support their own weight, and make for square sides for doors to close upon.  With much ingenuity and blue language, we were able to get 'er dun…
Chiller location: Ah, the chiller.  First it was going to be on the floor, next to the last Fermenter – but then there ended up not being enough room.  Then we thought, heck, let's put it on the roof of the Cooler – but then we got to worrying about what the vibration would do to the cooler.  So then we thought, hey – let's just put it on the roof of the building and build a doghouse for it ( because it's an inside unit) – but that was nixed.  So then we thought we'd get some racking and put it above the cooler, but not on it – but then someone pointed out that anything over 8 feet in the air needs to be permitted which would likely delay us more – drats! So, for now it is back on the floor, and we're going to skootch the fermenters around to make enough room…
Painting the envelope:  I am happy to report that for the most part, the surfaces that are gonna be gray, are gray, as are the white and yellow surfaces – finally!  We have some more painting to do to finish up trim in various places, but the "envelope" of our space is looking pretty good!  And to put the cherry on top of that, our intrepid woodworker Kent has added a nice touch of wood paneling below the Malt Room beer shelf, warming up the place nicely with some donated wood!
Designing & installing the Glycol system:  We definitely lucked out here as we have an engineer with a funny accent (Bruce, who hails from Down Under, I believe) who has taken on this whole project, lock, stock and two smoking glycol hoses…  He's on it starting tomorrow, and estimates a bit over week to get it all hooked up from chiller to fermenter & cold room!
Getting gas and ducting arranged: Gas piping is almost complete – but it's a rubiks cube of entities to do so King Cty Health, PSE and our gas piping contractor…  And the venting is a challenge because we had planned to do it one way, but once everything's been placed it's clear that this wasn't going to work.  So we need to secure the landlord's permission to cut holes in the roof (2) and then get it vented, sealed, weathered in and completed.
Building and placing the bar:   Due to the vagaries of the space, and moving arrangements around some, the bar design changed pretty profoundly.  We no longer have a 3 postion sink behind it, and have shortened one leg of the bar to be flush to the Cold Room so that we would not lose too much Tasting Room area.  We completely scrapped the old bar and our member Keaton is building a new one from scratch (deemed easier than adapting the old one), and that should pretty much be finished up early next week which will allow us to finish plumbing and electricity behind it.  We also made the decision to maximize the space behind of the bar by insetting the taps into the Cold Room wall, making for a more interesting feature, as well as gaining us another 6-8 precious inches behind the bar!
Sooooo – all this to say that building a Brewery & Tasting Room is much more involved than it seems, even on paper.  If we ever do this again, we will definitely budget in more time for CLEANING and MOVING STUFF AROUND that takes up SO much time in the course of getting real progress made!
A welcome diversion though, is talking to all our neighbors, passers-by, and YOU GUYS when you stop in to find out about your brewery!
SO WHEN ARE WE GONNA OPEN?!?
Our schedule at this point (subject to change & having our final licensing come in) is to allow Kevin F, our head brewer, to prepare some tasty wort for the yeasts to do their heaving lifting on (ie: fermenting), starting no later than June 30th!  That means that "about a month later"  we will start to have beer, and we can start to open with soft openings for members a couple weeks later, and finally a GRAND OPENING for the General Public to see what WE HAVE ALL BUILT!
Thank you again, for all that you do, to support and enable #memberdrivenbeer!
BEERS!
- David
member-owner #446