Want to help run YOUR brewery?

One of the core things that differentiates our brewery from most others, is that we are formed as a Co-operative and are democratically run.  And one of the cool things is, that any member in good standing may run for a 3-year term seat on the Board of Directors to help guide and determine direction for our Co-op in the  most democratic way!
These past few years the Board of Directors has been responsible for a lot of progress in our development and growth as an organization. Among the important work accomplished since 2011, The board has:
Created a working board from which to guide and direct the Co-op's growth - from the ground up!
Designed, planned and scoped just what the physical characteristics of this working Brewery would be.
Instigated and saw through the Capital campaign where we raised sufficient funds to create a physical brewery.
Recruited staff and a head brewer to run the Brewery.
Enabled the production of award winning beers enabled with our Member Driven Beer program
Created a true Community space with the buildout of our Tasting Room - open and welcome to all: members and non-members alike!
Executed on our commitment to the 7 Cooperative Principles, focusing especially in giving back to our immediate community and causes our members have selected.
As you can see, we are a motivated bunch, and have accomplished a lot in a relatively short time!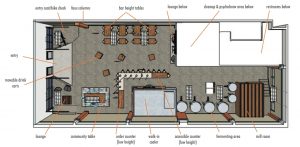 Now comes up the 2018 Elections to be held this fall, and we are losing 3 board members who are ineligible to run again, or are in search of new challenges.  In light of this, we are looking to maintain our diverse board and seeking talented individuals that have skill sets we can take advantage of, as well as diverse backgrounds and perspectives that keep us strong as an organization.
Some questions you might have:
"Do I need to be a homebrewer to be a Director?" - No, absolutely not.  We are looking for members who are driven and passionate about this concept and community, and are ready to help us continue on our mission to create good beer and great community for all!  Read our Values declaration to understand our priorities.
"How much is the commitment in terms of time?" - Generally we put in at least 2-5 hours per week between meetings and work sessions to guide the business, and keep the activities and events flowing that make this a great community to be in, and to encourage patronage and participation by and for our membership.  Read about the commitment board members should anticipate by downloading our BOD packet.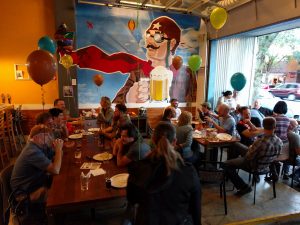 "Are there perks to being a Director"?  - Well certainly there are!  You will get to work alongside our brewers and staff to be more involved in operational decision making processes.  You will get to help create an environment and community enabled by this co-op culture.  And you will have a front row seat and some "game time" in all the events we host as well as participate in as a brewery (festivals, fundraisers, community events).  You will have an enormous pride in being part of a successful business that focuses not on enriching a few owners, but creating wealth of opportunities and experiences that benefit our membership, and the community!
"How do I find out more?"  Come join us at any of our Beers with the Board events leading up to the nomination of candidates.  Or look out for a Director in the Tasting Room when you see them and ask in person!  Or sign up at volunteers@flyingbike.coop to participate more and learn about how we operate as an organization.
If you have other questions, please email info@flyingbike.coop and we will get back to you asap with answers or direct you to those who can!
Cheers!!