Running as hard as we can…
IT'S BEEN 4 WEEKS SINCE OUR LAST UPDATE!  WHY, OH WHY?
We've been a little busy... Your fellow member-owners have been hard at work building OUR brewery together.  Running as hard as we can to the finish, every single day!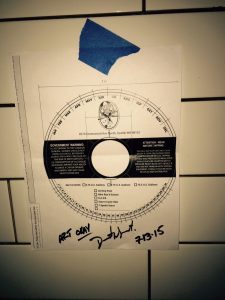 Woodwork, metalwork, plumbing work, drawing work, design work, planning work, electrical work, CEMENT work!
Since our last update we have:
Purchased malt and hops (and lavender and Agave!)
Sealed the cooler floor, hung the door, and made it COLD in there!
Built the cooler cubby (where the taps are mounted)
Secured Co2 and O2 - plumbed in the dispensing gas manifold
Received, marked, washed and purged our kegs (thank you Naked City!)
Finished the glycol system and have all 4 fermenters ONLINE
Brewed 4 batches of real beer (and one test batch)
Made progress on the electrical and plumbing, bar, cooler tile & wanescot and bathrooms
Excavated and poured a new pad for the ADA lift
Mounted a Grist hoist
and so much more...  We're pretty busy here, so I will let the pictures fill in some of the gaps.
Oh, and sorry but we missed getting a picture of Dick Cantwell, that time he stopped by...  But Wow!, another notch in our legitimacy belt!!
MOST OF ALL: A BIG ShoutOut to our MEMBERS!   Without you, we could not BUILD this Brewery, and Build our Community!
It is very humbling to see all the talent and hours being donated to this cause - the cause of #MEMBERDRIVENBEER!
Beers!