200 lbs of food? Bah, Humbug!
Last year Flying Bike launched our first annual Member Driven Food Drive and collected 196 pounds of food for our local food bank!  We got a great heartfelt note with great praise saying they haven't seen such a successful first food drive, which also generated a donation for $25 per box and a $1 per pint on the final night of the drive.  Together this raised $225 for the Greenwood Food Bank in 2015.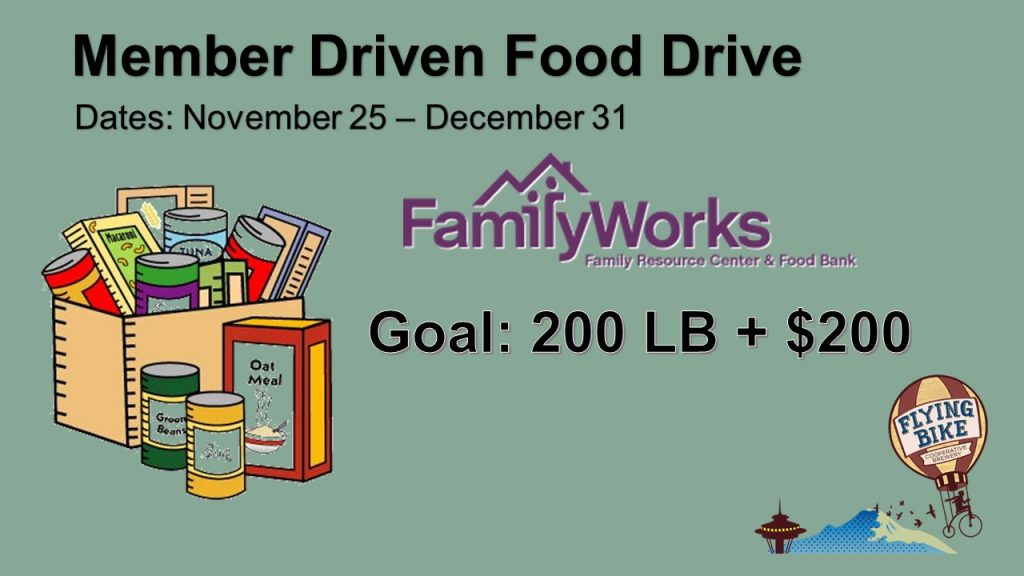 This year we were excited to build on that success with a minimum goal of 200 pounds of food, and we as Cooperative would donate $1 for every 1 pound of food.  Our goal was to collect 200 pounds of food and donate $200 for those in need.  What did our members and patrons say to that?!  Bah, humbug, that's too easy!
It broke a record and will go a long way toward helping those in need within our community!  We couldn't have done it without!
Thank you the members of our Cooperative and to our patrons who helped us raise this incredible amount of food to help those in need!  We are honored to write a check for the matching donation to the food bank to increase the impact of your contribution.  This effort is a true testament of the collective power of our Cooperative Community.  Do you think we can hit 400 pounds for $400 next year?  We can drink to that!  #MemberDrivenBeer #MemberDrivenCommunity #MemberDrivenFoodDrive!
This is your Cooperative, your brewery, and your community making a difference!