Kevin's Korner – March 2018
Notes from the Head Brewer:
Well it's been an unusually quiet month at the Flying Bike, now that that tall blonde guy with the black glasses who used to come in and help out fairly regularly has passed on to the great reward in the sky - OK, just up the street - where he gets to pour beer for the grateful people without ever actually having gone to the considerable trouble of making it himself. Nice gig! Please do go visit Scott at Chuck's Hop Shop, but please, please don't tell him we miss him.
    But beer goes on, and we're plenty excited about what's up.
    That (speaking of Scott) Scotch Jensen Scottish Amber just gets better by the day, as such complex, malt-accented beers tend to do.
     Those many of you who are fans of co-op member and homebrewer extraordinaire Sara Rood's coffee milk stout will find our brand-new Handlebar Milk Mustache satisfyingly familiar. Our thanks to all who offered suggestions in our beer re-naming contest, and our apologies to any teensy charming brewery in any teensy charming town out there somewhere whose naming rights we might have inadvertantly stepped on. Meet us at that swimming hole you guys have over there, we'll both bring beer, and let's do the throwdown.
    We'd been sitting on those aptly-named Huell Melon hops from Germany for a while before we decided it was time to feature them in a nice wheat beer, which is how the Hammock Weather Wheat came to be. Now that the sun's coming back, and spring is near, it might be just the thing, especially if your beertender decides it's nice enough to put some tables out there on the sidewalk.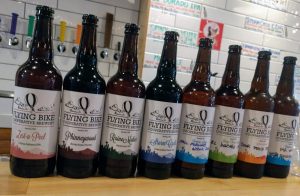 We don't attempt many lagers, but wait till you try this new Fall Forward Spring Bock, which should be on by the time you read this. I'll just let you taste one and tell me what you think. I'll probably be drinking one, too.
    Full disclosure: your co-op brewery has inevitably succumbed to New England IPA fever. Opiney the Yelper will be big and citrusy, and the Pale New Englandy Thing will be more modest-sized, and tropical, and flowery. That's my guess, at least. They're fermenting as I write, and are changing every day. We'll explore this new territory together.
See you at the brewery!
Kevin Forhan