FAQ's – what's going on at FBCB these days?
We are making tremendous progress at "the 'Bike" these days, but I am sure you all have a hundred questions - I get them from many of you that stop by the place, as well as our partners that are rooting for our success. Here I will attempt to answer some or these questions for you:
Did we ever finish the Investment Campaign?
Nope, not quite.  And remember that we're looking to make a stretch goal to buy us some more breathing room on our budget, due to the unanticipated costs of some things, and the increased cost of others.  Seriously, we need to raise another $20,000 to $30,000 more to cover these costs.  Please, if you haven't done so, please consider an investment in your Co-op.  We need your financial support to get this thing launched properly, and we will be brewing good beers to that will enable us to pay you back.  We have the equipment, the location and the talent - we just need a fully funded capital campaign to fuel us for lift-off!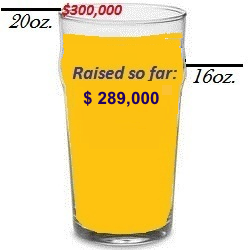 Keep in mind too, that we will be ending Founding Member memberships the day before we open - so if you or your friends would like to be a founding member, you need to join soon (after opening, membership fees go up $50, too).  This is also a good way for us to raise funds to contribute to our capital reserves, so encourage your friends, spouses, co-workers to join today!
When will we open?
We are shooting for "end of June" - and we know this sounds vague, but there are many things that are still not in our control, that will determine the exact date.  More on this to come, soon!
What's up with Licensing?
Board VP Mitch Johnson is working on this, and his latest update is that the WSLCB (State) has so far given no objections to what we intend to do, or how we will execute, but we are still awaiting a final decision from them.  The TTB (Federal) also is seemingly currently satisfied with our application  - and is just going through their due-diligence to get us our license hopefully within the next few weeks.  Look for a big announcement on this from us!  At that point (and only at that point) we can start brewing beer that we can sell.
What about the break-in?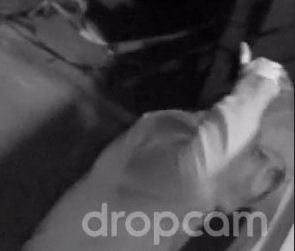 Yeah, that was a bummer (and reported in the local Phinneywood blog pretty well).  Although we appeared to have just lost a bit of petty cash, our neighbors to the north - Munch Cafe - lost their POS system, some computers and a larger amount of cash.  As a result we have rekeyed the place, sealed up a door between our two businesses, added a security camera, added security monitoring, added some motion lights - and become a little more jaded and cynical towards the world at large...  (just kidding on that last part - but it was a wakeup for us starry-eyed beer dreamers...)
What's happening in "Build" now?
We are pedal-to-the-metal working on the space - even working weeknight evenings.  The past few weeks we have made tremendous progress in finishing walls and doorways, the ceiling, cutting a big trench in our floor, busting out concrete and excavating, building tabletops, laying out floor drains, building the safety wall, priming & painting, building our first "beer shelf"!, cleaning & dump runs....  It's been exhausting but fulfilling work - and we could not do it without all of YOU helping!  Our volunteers ROCK!  All of this in addition to planning plumbing (to get bids and select a plumber who is starting today), and planning electrical and managing the upgrade to our power, as well as all the other "normal" stuff we do to keep the Co-op going!
When do we get our Brewhouse?  And Fermenters?
Short answer: First week of May.  A full 2 weeks early - and we could not be more excited to get all that shiny new brewery stuff under our roof AHEAD of schedule!  In addition, we have taken delivery of the cooler panels for our cold room (just last weekend), so as soon as we get the 'Panama Canal' that runs down the center of our brewery filled in (ie: finish the floor drains), we can start assembling our cold storage room!
When do we hire a brewer?
We have had some great candidates to choose from, and are working our way through the process - there will more to come soon on this topic.  Suffice it to say, we are honored to have such a great bunch of candidates and we're working hard to live up to their abilities!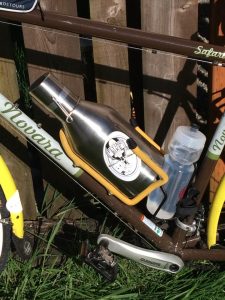 What's with all those white "x"s on our sidewalk?
The City of Seattle is going to install SIXTEEN bike racks in front of FBCB, as well as the Walrus beer garden!  16!  You'll have no reason not to "Bike to the 'Bike", for your beer!  You may want to install one of these handy Growler Cages on your ride, so you can bring home some tasty #MemberDrivenBeer, via Bike!
Hey, I have my MAST permit, and as a member-owner I'd love to volunteer behind the bar - will I be able to do that?
Due to labor laws, we cannot have volunteers (unpaid staff) working in the Tasting Room.  If you are interested in serving, we will be hiring a Tasting Room staff to fulfill these positions and we encourage members to apply for these part-time positions.  However, as we get going and participate in beer festivals and events, we anticipate being able to use volunteers to pour samples, as is done by many other breweries.
What else is coming up?
We representing at National Homebrew Day up at member-owner Tony's Micro Homebrew on May 2nd, 10am - come on by and say 'hi', meet the creator of our CDA (Tony) and learn about homebrewing!
Also - we are doing a Member Exclusive Soft Opening at Lucky Envelope on May 4th - 5pm.
Come show the love for local brews, and we may have some more exciting updates for you at that time!
Then we have the Storm Cycle CDA Release Party at Counterbalance Brewing on May 8th, and the World Famous, 5th Annual Tour de Pints coming up on May 9th.   Loads of fun events for your participation and entertainment!
Please email info@flyingbike.coop if you have more questions, or something you'd like to see addressed in a future FAQ!  And thank you, for all that you do, for #MemberDrivenBeer!