Thanksgiving 2015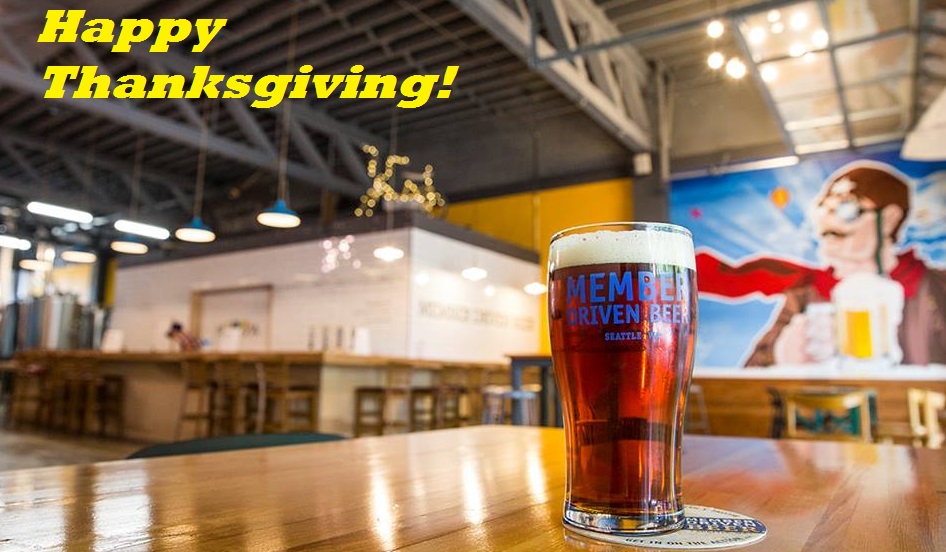 Sitting here in the brewery on a crisp fall evening, listening to the murmur of the patrons and the background drone of the chiller, I am struck by how much we have to be thankful for in these first few months of operation as the West Coast's First Cooperatively owned and run brewery.
Relative to this brewery and this second family that it has become for so many of us, here's a brief list of things I am thankful and appreciative for:
Our Board of Directors – without whose efforts and drive, this whole thing would still be an interesting idea, and not a reality.  It's an interesting and talented group of people, and though we are a fledgling organization and have day jobs and competing personal priortities, they get a lot done, somehow.
Our Talented volunteers and investors – without whom we would not have this outstanding Tasting Room to visit, let alone the infrastructure and equipment to produce all these tasty beers!  It still amazes me looking around, to think about what we have constructed with our own hands, and what it has become.  Special thanks to some that have donated their specific talents to the Build team – we are ever indebted to your generous and valuable contributions!
Our staff – the smiling and friendly face of the brewery to the public and our members. Every day it makes me happy and confident in our future whenever I interact with Kevin, Tess, Scott, Lauren and Ryan.  Your professionalism and willingness to jump in and sort stuff out for the benefit of the Co-op and our customers impresses me every day - Our staff rocks!
The support of the Cooperative community, and the Business community – from the guidance we have received from other brewers (both coop and non), to the collaboration with other brewers and industry folk, to the support and embrace of the neighborhood in promotion and getting the word out on our new business – it's been very impressive the amount of support we get from all of those different directions.
Our head brewer Kevin Forhan who has not only brought his talents to the fore in producing our member's recipes, but filling in the gaps with some truly inspired brews (did you get to taste the Amy Schroomer Mushroom beer,  or Noche de Cocoa Stout, and the Pale Hoppy Thing? ).  Not to mention the instant legitimacy of our brewery, due to the great relationships Kevin has with the established Seattle Craft beer community.
Great Beer!  What an awesome taplist we have right now, with some really special stuff coming up.  How can we not be thankful for this?!?
I know there's a lot not right in the world right now, and there are more important things than Beer to be concerned about – but Flying Bike has provided us all a nice respite from this, and frankly one that I think we have all earned through our support and contributions to our Cooperative success.
We're still figuring out a lot of things, and have some grand plans for 2016.  But I believe we are well positioned to greet the future and keep on being the Cooperative Beer community that you support, and are proud and happy to be a part of.  And for this I am very Thankful.
Here's wishing you a very Happy Thanksgiving, and hope to see you soon around Flying Bike.
- David