Kevin's Korner – January 2018
Notes from the Head Brewer:
Well it's been a pretty quiet month at Flying Bike, here in the depths of winter, when people take time off here and there for the holidays, visit with their families and friends, and make resolutions to avoid various low temptations. These vows often survive well into mid-January. We do expect things to be picking up here shortly.
Meanwhile, our taps keep flowing with low temptations. Member-driven beers are holding down the fort. Sarah Rood's Coffee Milk Stout was our best-selling beer its first week on draft. A coffee milk stout? That's just crazy.
Now Eric Blume's Phinneywood Porter has joined Raine Lightner's IPA, Michael Jenkins' Skagit Valley Pale, and Tony Ochsner's CDA to showcase the homebrewing mastery of our member-owners. But that still leaves Scott and me a chance to improvise on occasion. That new big fermenter of ours gives us the luxury not only to brew in greater volume, but to brew more of the kinds of beer that might benefit from a little more time to develop and come into their own. That Equanot IPA that's on tap now, our first batch out of that fermenter, just gets better by the day. Now conditioning in that tank is our next IPA, featuring El Dorado hops. But we'll leave that one alone till it decides it's ready. Because we can.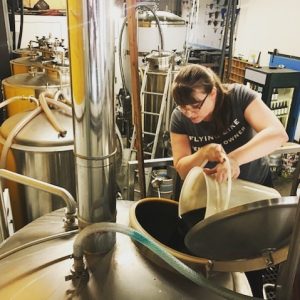 Don't let the "session" in our Recusal Session IPA scare you away- it contains a its full quotient of hops, including those delicious and intriquing new Eurekas, you will find. And isn't in nice to be able to have three instead of two? And don't let the word "nitro" scare you away, either- the Snowmelt Nitro Pale is the real deal. Start with a taster if you don't believe me. Now fermenting is a little thing Scott and I have been planning for a while now, ever since we scored some of those new Huell Melon hops, which are reported to be aptly named. So we put a generous portion into what we'll call our Flyover Country Wheat Ale. So next month around this time I'll be asking you not to be afraid of the word "wheat."
See you at the brewery,
Kevin Forhan