Kevin's Korner – Oct 2017
Notes from the Head Brewer:
Well it's been a pretty quiet month out here in Greenwood, on the far edge of the heart of the city, at your local cooperative brewery.  It's all about the beer for Scott and me these days. So many different things going on!
Michael Jenkins' competition-winning Skagit Valley Pale recipe was a pleasure to brew, and it's a real hit. (And boy is it great on cask.)
Our third annual Fresh Hop Harvest Ale--a nice, mild ESB-like ale--has been pouring for a little while now, and it's developing beautifully--showing more and more of those home-grown fresh hops our members brought in from their yards, hand-picked, and threw into the beer on brew day. Was that fun, or what? Only at the co-op.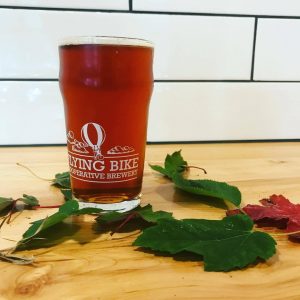 Three times in a row, now, it seems, we've succeeded in brewing a kettle sour. This next one's bright and citrusy and will be on tap in early October. I'm almost starting to think we've got something going on with that sour thing.
There's a German malt called "Red X" that's rumored to be the key to a nice malty red beer. So we just brewed what we hope will be a nice malty red beer, and threw in a bunch of hops. That's for mid-October release. Let's just say, early signs are encouraging.
We're getting our hands on a Belgian ale yeast soon, and you'll be seeing a pair of offerings resulting from that before the month is out, I reckon. Besides which, there's just no telling what dang thing Assistant Brewer Extraordinaire Scott Jensen might be up to on any given day. The other day he walked in with a satchel full of dandelion heads, juniper berries, lavender, and a couple other things that were beyond me. He'd foraged it all on the walk from home to work, and he's going to put it all in an Adjunct Professor beer. I don't know, you'll have to ask him.
See you at the brewery,
Kevin Forhan