Kevin's Korner – Nov 2017
Notes from the Head Brewer:
Well it's been a pretty unquiet month on the brewing side of things here at your local cooperative brewery, on the north edge of town, here in the heart of Greenwood. Let's just talk about the beer, because it's happening.
What fun it was to brew our Saint Phinneyus Abbey-style ale in collaboration with our friends from Naked City, in honor of the Phinney Neighborhood Association. Emboldened by the forgiving and adventurous natures of you, our beer-appreciating members, we took a few chances, and it has worked out nicely. It's deep and rich and indefinably spicy. And it's only going to get better. I recommend that you drink at least one a week.
Don't neglect the Alliterative Amber just 'cause it says amber. It's got a bit of that toffee-brown sugar mellowness of a Scottish ale. Also, it's alliterative. The Chain Stay Belgian-style Pale has the same yeast as the Phinneyus. Do a side-by-side. We've learned a thing or two about our brewery, and hops, since the first long run of the Pale Hoppy Thing; The Return of the Pale Hoppy Thing shows that, I think. Clean, bright, multilayered hoppiness.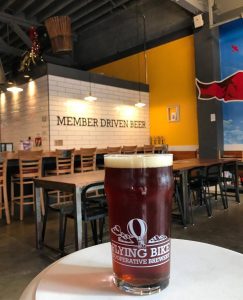 Adjunct Professor Scott Jensen continues to school us all. He hands me these things and says, What do you think of this? And I just don't know what to say. Except, Yeah. Member recipes old and new: Tony Ochsner's award-winning CDA is in the fermenter and preparing itself for a late-November release, as is Sarah Rood's competition-winning coffee milk stout. And back by popular demand, in early December, Michael Jenkins's Uncanny Valley Pale. Fortunately the power outage after that big storm the night we brewed it missed the Bike by a few blocks, so our fermentation temperature control did not fail that night. Whew.
Did I mention the forgiving and adventurous natures of you, our beer-appreciating members? Those of us here on the brewing side--which is all of us, isn't it, really?--are grateful that we get to play, brew between styles, try new things, and take chances, just because we all agree that that's how it should be.  Thank you.
See you at the brewery,
Kevin Forhan